Godechot Pauliet
Multi Brand Jewelry Store - Avenue Victor Hugo - Paris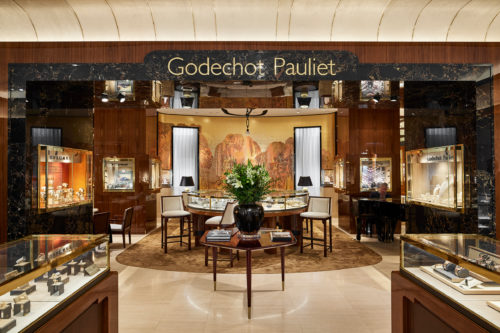 In July 2021, Godechot Pauliet opened its new Parisian boutique designed in collaboration with OITOEMPONTO, from Jacques Bec and Artur Miranda, a brilliant architectural duo.Watchmaker and jeweller since 1922, Godechot Pauliet is today one of the largest shops dedicated to the sale of precious metals, fine stones, jewellery and goldsmiths in the capital. Godechot Pauliet offers the most prestigious brands: Cartier, Rolex, Bulgari, Boucheron, Chaumet, Pomellato, Messika, De Grisogono, Omega and Chopard.Located on Avenue Victor Hugo in the 16th arrondissement of Paris, the boutique is an example of luxury and knowhow that celebrates the nobility of this new address. With their experience in the creation of high-end boutiques, the OITOEMPONTO duo was asked to redesign the various areas of this new space.Honoring the identity of each house and favoring textures and noble materials, Godechod Pauliet recovers the splendor of its beginnings. The golden letters of the sign above the window, sober, announce the solemnity and tranquillity that belong to this place.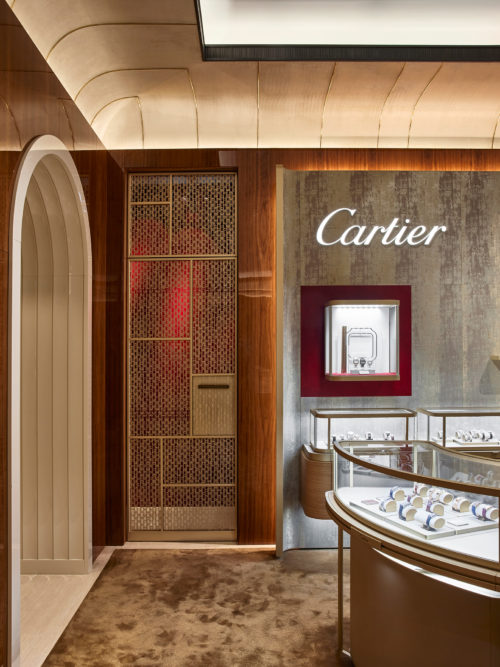 At Cartier, natural light, clean, simple lines and light-coloured materials celebrate subtle luxury and bring a timeless modernity to the shop.
Under the supervision of OITOEMPONTO, Godechot Pauliet thus honours the artisanal know-how and the jewels of traditional watchmaking and jewellery in elegant and refined cases that reflect the codes of each house.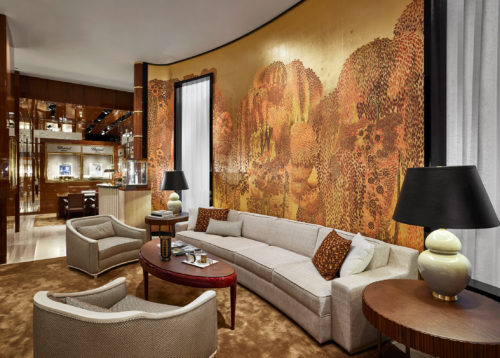 For the Chopard space, Jacques Bec and Artur Miranda have carefully selected furniture in perfect harmony with the world of the house: graphic lamps, a Santa Monica sofa, varnished Finn Juhl Danish coffee tables and Gournay's panoramic fresco ''Hypolita's Forest'', on pearly gold leaf with an autumnal tone.
About Godechot Pauliet
Inheriting a long line of creative jewellers, Godechot Pauliet has its origins in the 1920s in Paris. Their main activity was the manufacture of jewellery, the sale of precious metals, fine stones, jewellery and goldsmithing. In the 2000s, the company developed its partnerships with the major watch brands and opened the first Rolex store in the capital. This was followed by other prestigious brands which were offered a dedicated space in the shop.
GODECHOT PAULIET
28-30, Avenue Victor-Hugo
75116 Paris – France