La Maison du Caviar Restaurant
Paris
What project could be more beautiful for the duo of decorators Jacques Bec and Artur Miranda than to reinvent this mythical Parisian institution? La Maison du Caviar opened its restaurant in 1956, and the 2018 version imagined by Jacques and Artur is a hymn to timeless luxury, a cruise in the Paris of the 1930s, the spirit of the Normandie liner, the fluidity of streamliners, the chic of the Orient Express and the dashing glamour of the 1950s. All of these are inspirations and nods remastered with a very contemporary twist by the talented studio OITOEMPONTO.
Beginning with the reception area, between walls of travertine and pleated varnished iroko woodwork, a frosted glass sturgeon dominates the counter and the iconic bar, an invitation to enjoy sparkling champagne bubbles and beads of caviar. The authentic sinuous black melamine curve of the 50s has kept its little red lights and unfurls under a ceiling shaped as an immaculate stucco wave, studded with golden stars. The benches are upholstered in very 60s style pearly mica velvet, and the stools dot the bar like so many golden studded velvet tambourines. On the floor, a carpet whose waves resonate with the ceiling imitates the colors of the «Rosso Levante» marble of the steps that lead to the restaurant.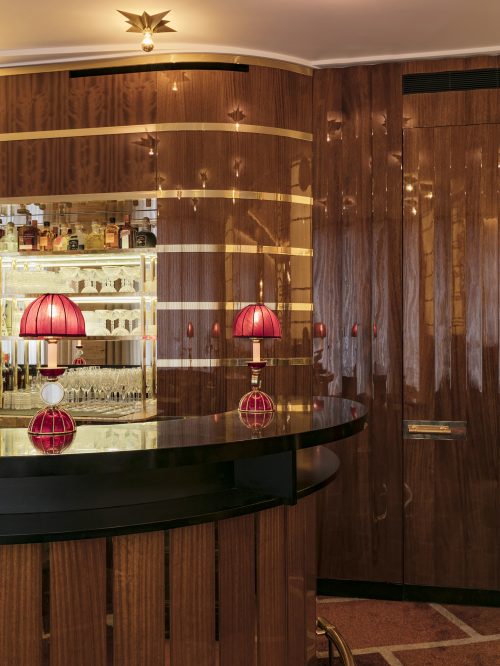 Framed by the bright walls and bronze patina railings, the salon is surrounded with a comfortable, green velvet sofa that runs along the walls of beveled mirrors. Very 70s style Ottomans in Bordeaux Velvet, 30s armchairs covered in bronze velvet, and champagne cooler furniture at the center are an invitation to gustatory pleasures. Every sturgeon candle holder gives life to the ivory table tops on a black and gold base. The «mosaic of marbles» Tuscan carpet, the glass sconces of Californian crystal Plexiglas, the entirely gold-leaf-gilded ceiling and cornice create a perfect combination with the tones of the second salon.
"Atmosphere, Atmosphere!" – Jacques Bec
"This is going to be fun!" – Artur Miranda
About La Maison du Caviar
La Maison du Caviar opened in 1956 in Paris, created at the time as an institution by the importer Caviar Volga, urged by His Majesty the Shah of Iran who was anxious to have a luxurious Parisian casing for savoring Iran's famous caviar, for which he had granted exclusivity. Located in the heart of the Golden Triangle, just a few steps away from the Champs-Elysées, this elegant and prestigious address has for decades attracted regular Parisian customers and an international clientele, who comes here to savor caviars of the best provenance, as well as smoked fish and other products of excellence. Today, La Maison du Caviar is reconnecting with its exceptional tradition and has brought in studio OITOEMPONTO to design its new decor.
21 Rue Quentin Bauchart, 75008 Paris – France
La Maison du Caviar Restaurant
close