Showrooms
Porto - Lisboa - Paris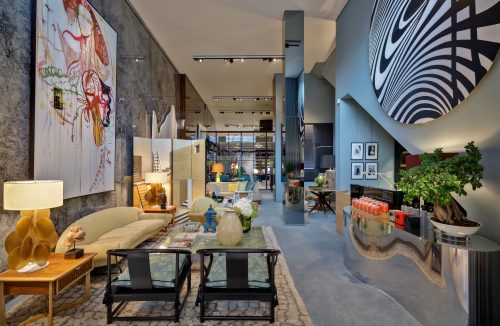 Porto Showroo
m
Rua de Tanger 1378
4150-721 Porto (Portugal)
t +(00)351 226 151 724
f +(00)351 226 151 725
Artur Miranda and Jacques Bec wanted to create a place that would serve as both workspace and showroom, and in 2002 took over 300m2 premises in a quiet, upmarket neighborhood of Porto, not far from the sea. The location is the reflection of their work: they exhibit and sell an eclectic combination of 18th century pieces by the leading designers of the 1940s to 1980's, delightfully and harmoniously rubbing shoulders with numerous creations by OITOEMPONTO as well as a very selective array of works of art and unique pieces from renown designers, all delicately enveloped in perfume created by Frédéric Malle.
This is the work setting of all the staff of OITOEMPONTO, which now comprises around 8 Architects, 8 Designers, 16 Others employees from Comercial, Finance, Production & Logistic, Marketing & Communication. Makes a total of 32 people, to work on very large scale projects both in Portugal and abroad – from London to Paris, Rhyad or Moscow.
Lisbon
Showroo
m
Ritz Four Seasons Lisboa,
Rua Rodrigo da Fonseca 88,
1099-039 Lisboa (Portugal)
t +(00)351 211 31 97 18
Based in Porto, Jacques Bec and Artur Miranda travel frequently to Lisbon where they manage multiple projects. Rather than invest in a pied-à-terre, they prefer to check into the Ritz where they find the discreet opulence and the numerous artworks reminiscent of the atmospheres they create. This luxury hotel has become their "second home", it seemed quite natural for it to host their second showroom.
Situated on the ground floor of the establishment, a selection from the work of the two designers is on display in the 16 m2 corner, alongside candles and scents from Frédéric Malle and "OITOEMPONTO, Architecture & Intérieurs", the book devoted to the work of the two designers, published by La Martinière.
A refined yet cozy reception space, in perfect harmony with the five-star setting.